Nowadays, there are so many brands and types of hiking boots available on the market that it is quite a challenge to buy hiking boots. Therefore, I am giving you here some tips and insights with my hiking boots review to help you find the footwear that is right for you.

One thing to consider is that some hiking boots may require a break-in period. So, don't buy your hiking boots with the intent of wearing them for the first time during your vacation! This is a big no-no and a painful mistake! The last thing you want during your holiday is to take care of painful blisters, the size of a tea saucer! This can ruin your vacation!
First off, it is always better to be safe than sorry! So, if you have no idea of the type of terrain that you might encounter during your trip, I highly recommend that you buy a pair of hiking boots rather than hiking shoes!
Before getting into the thick of things with my review of the top 3 pairs of hiking boots available online, I decided to give you some pointers. These tips will help you choose the hiking boots that are best suited for your feet.
Without any further ado, here we go:
What's the Purpose?
Before you even start researching online, you first need to ask yourself: why do I need hiking boots? It is crucial to figure out what you intend to do with these boots because you must choose the footwear that best fits your hiking ambitions!
Types of Hiking Boots
Hiking boots come in different size and shape and can be divided into three categories:
Lightweight: Ideal for a one-day hike with light loads on trails. The lightweight hiking boots are mid-cut and cover the ankles. However, they do not provide much support and protection for the ankles.
Midweight: Perfect for hikes lasting from 1 to 4 days while carrying medium to heavy loads. These hiking boots are well-suited for mountainous terrain and for going off trails.
Heavyweight or Mountaineering: These hiking boots are for the experienced hikers undertaking technical treks or trekking on rough terrain while carrying heavy loads. The heavyweight hiking boots offer the maximum support for the ankles. They are massive, sturdy, but pricey. However, they are worth the investment since they will outlast all the other types of hiking boots!
Hiking Boots Deconstructed!
A hiking boot can be broken down into three sections: the upper, the midsole, and the outsole. Keep in mind that the quality of the materials has a direct impact on the sturdiness, the performance, and also on the price of the footwear.
Upper
This part of the boot is made of different fabrics and materials conferring the sturdiness as well as the sleek look of the hiking boots.
Full-grain leather: it gives abrasion resistance. One drawback is that it requires a break-in period. The use of leather makes the boots less breathable. So expect sweaty feet in scorching temperatures!
Split-grain leather: Mixture of nylon mesh and leather. The boots are more breathable and lighter.
Nubuck leather: Full-grain leather that looks like suede. Waterproof and resistant to abrasion.
Synthetics: Made of polyester and nylon. The boots made with synthetic fabrics are lighter and required no break-in time. However, the downside is that they are less durable than the hiking boots made up of leather.
Waterproof:  The Gore-Tex breathable membrane is the liner of choice for waterproofing hiking boots.
Midsole
The midsole absorbs the shocks and provides cushioning for your feet. It is also responsible for the boot stiffness.
There are two types of materials used to make the midsole:
EVA (Ethylene Vinyl Acetate) is commonly used in lightweight hiking boots.
Polyurethane is the material of choice for midweight and heavy-duty boots. It is more lasting and confers more stiffness and support.
Also, shanks and plates are usually inserted between the midsole and the outsole. They add stiffness as well as protection while you are walking on rough terrain.
Outsole
The rubber is the material used for the three categories of hiking boots. However, the hardness of the outsole is what set them apart. For instance, the outsole for the midweight and the heavy-duty hiking boots is thicker and stiffer. This increases the durability of those types of hiking boots compared to the lightweight boots where the outsole is thinner and more flexible.
Ankle Support
The biggest difference between hiking shoes and hiking boots is the ankle support.
Hiking shoes are low-cut. Therefore, your ankles are not covered, resulting in no ankle support.
As for the hiking boots, which are usually mid-cut or high-cut, the coverage stretches above your ankles. However, the degree of support and protection differs and depends on the type of hiking boots. So to sum it up, the lightweight hiking boots offer only minimum support and protection for the ankles, whereas the heavyweight boots provide the most.
At the top of the list of injuries most encountered while trekking on rugged terrains, you have sprained ankles. Therefore, a good ankle support is essential to avoid any injuries.
Know Your Size!
To be comfortable in your hiking boots, they have to fit your feet perfectly. If the boots are too tight or too loose, this will bring discomfort and a greater risk of injuries.
First off, know your size! To figure out your boot size, just follow a few simple steps outlined here.
Another option is to pick a footwear brand that you have worn in the past. So you will have no problem figuring out the boot size that you need!
Now, the time has come, here are the top 3 pairs of hiking boots on the market:
The North Face Hedgehog Fastpack Mid GTX Hiking Boots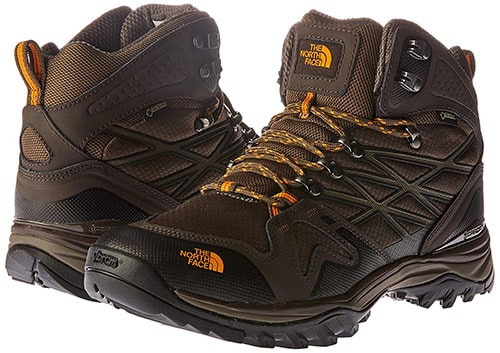 The North Face Hedgehog Fastpack is a lightweight hiking boot since a pair only weighs about 1 lb 12 Oz (800 g) (men's size: 9).
The upper consists of a breathable synthetic mesh with a Gore-Tex waterproof lining.
The midsole contains Pebax shanks and plates conferring extra protection for your feet. So you can go off the beaten path and walk over hilly terrains! No need to fret about bruising your feet!
The outsole is made of Vibram rubber which provides excellent traction on wet and uneven surfaces.
The North Face Fastpack Mid GTX hiking boots offer a good ankle support. They do not require any break-in period. So, the North Face hiking boots are very comfortable to wear right out the box!
These hiking boots are perfect for the casual hiker or everyday use. Therefore, if your safari vacation involves little walking on rugged terrain and solely consists of game drives, then the North Face GTX is the ideal hiking boots to pack in your duffel bag!
Women's size:  5.5-11
Men's size:  7-14
Lowa Renegade GTX Mid Hiking Boots
The Lowa Renegade GTX Mid hiking boots are light. Their sleek design will not go unnoticed on the hiking trails!
The upper of these hiking boots is made of Nubuck leather giving it a suede finish look. Also, there is a Gore-Tex lining for full waterproof protection. So, not only they are pretty comfortable, sleek, but they will keep your feet dry!
A short break-in period is required. So, before setting out on a long trek, go on a few short hikes to loosen the fabrics and outsole.
These hiking boots offer excellent support and protection for your ankles.
The outsole is made with the Vibram-Evo rubber. The use of this type of rubber provides the ultimate protection for your feet against bruising. Perfect for going off trails and walking over rocks, because your feet will not feel a thing!
The grip of the Lowa Renegade GTX is beyond any reproach in all conditions (wet, dry, mud) and over a wide range of terrain!
On the downside, the Lowa Renegade GTX durability does not meet the expectations. The outsole wears out faster than expected. Usually, the outsole of midweight boots should last for a minimum of 1,000 miles of hiking. Unfortunately, this is not the case with the Lowa Renegade.
The Lowa Renegade GTX hiking boots are comfortable, waterproof and provide full protection for your feet against injuries. Therefore, these boots are perfect for the hiker enthusiasts as well as for everyone who is planning to go on a walking safari excursion! Finally, the Lowa Renegade boots are designed for walking on rugged terrain and withstand abuse!
Women's size: 5.5-11
Men's size: 7.5-15
Asolo TPS 520 GV Hiking Boots
Usually, the hiking boots included in the category of "heavyweight" tend to be stiff and uncomfortable. However, it is not the case with Asolo TPS 520 GV hiking boots! Even though these hiking boots weigh more than 3.5 pounds (1.6 Kg), they are very cozy to wear for extended periods of time.
The lacing system adds to the comfort. It allows you to lace the lower portion of the boot tighter and the ankle collar more loosely. Therefore, you get a snug fit, which prevents any movement of your foot inside the boot.
The Asolo TPS 520 hiking boots require a break-in period before they can be used for long treks.
The upper of the boot is beyond any reproach. The Asolo TPS 520 hiking boots are made of a water-resistant full-grain leather with a Gore-Tex lining that provides a full-proof waterproofing.
As for the outsole, it consists of what the company called the "Triple Power Structure Asolo/Vibram Rubber." The outsole has three shock absorbers zones providing exceptional protection and support for your feet over any terrain.
The traction on dry surfaces is outstanding. However, on wet rocks and grounds, the Asolo TPS hiking boots are slippery.
As far as the durability is concerned, some users have reported that the boots' soles start to fall apart after only 100 miles of backpacking.
The Asolo TPS 520 hiking boots are ideal for a long-distance hike. It is the preferred footwear of experienced hikers for trekking mountainous terrains and for very technical climbs.
Women's size: 5.5-11
Men's size: 7-15
Conclusion
I listed in this review, 3 of the best hiking boots available on the market. However, always keep in mind, that the best pair of hiking boots is the one that snugs perfectly to your feet and protects them from injuries!
The bottom line is that you need to choose a pair of hiking boots that are tailored to your hiking ambitions and based on your personal preferences!
So if you are looking for hiking boots that are lightweight with no break-in period, and that can even replace your current sneakers for everyday use, then you should buy the North Face Mid GTX hiking boots.
However, if hiking is a way of life for you and you spend all your free time on backpacking excursions, you need something sturdy, comfortable, and designed for technical climbs on mountainous terrain! Therefore, I highly recommend that you buy the heavyweight Asolo TPS 520 GV hiking boots by clicking here. It's a sound investment for your feet!
If you have any questions about hiking boots or would like to share your own review, please leave a comment below. I will get back to you ASAP.