| | |
| --- | --- |
| Product | G Adventures Review – Uganda & Gorillas Overland |
| Country | Uganda |
| Where to Buy | G Adventures |
| Duration: | 9 Days |
| Date Available | January- December |
| My Rating: | 9.0 out of 10 |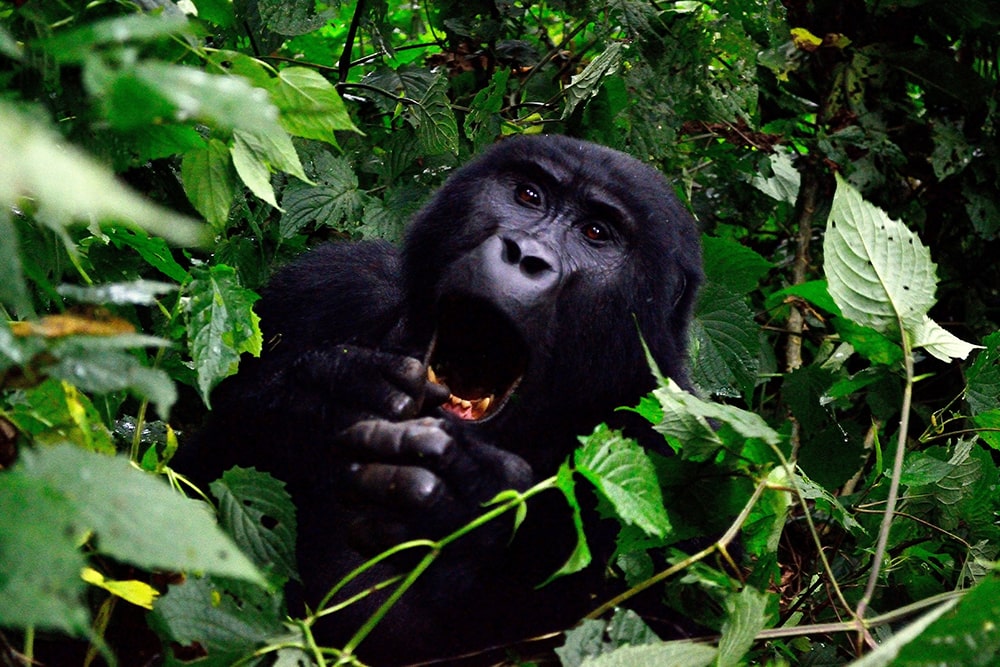 Uganda & Gorillas Overland – Overview
This Uganda & Gorillas Overland adventure is a 9-day safari package. Your journey begins in Kampala, the capital of Uganda, and covers three major destinations, and they are:
The Kalinzu Forest Reserve is renowned for chimpanzee trekking.
Lake Bunyonyi, is the host of the mountain gorilla, an endangered species.
The Town of Jinja is the outdoor adventure capital of East Africa.
This safari vacation is perfectly suited for the adventure seeker. You will explore the breathtaking landscapes of Uganda and admire the abundant and diverse wildlife from an overland truck. This means of transportation combined with camping in the wilderness constitutes a very efficient and inexpensive way to travel and is the essential feature of the Uganda & Gorillas Overland safari package.
Also included with this safari package are 2 Chief Experience Officers (CEO) or tour guides, one driver, and one cook.
Yolo Travel Style
The travel style offered here with Uganda & Gorillas Overland package is called: Yolo. This package is for young travelers between the age of 18 to 39 years old, that are on a tight budget and looking to get the most out of their safari adventure. You will spend your days doing loads of activities!
Furthermore, you will not be lodged in a 5-star hotel during this trip; you will be camping in the wild!
The group size is an average of 20 persons with a maximum set at 22.
Another requirement for this safari vacation is that you need to be in excellent physical condition since you will be spending your time in a humid environment and doing strenuous physical activities (such as primates trekking).
Now, don't despair, if you are not eligible for this safari vacation, G Adventures offer another safari package where you can visit the gorillas and chimpanzees in East Africa!
Gorilla & Chimpanzee Trekking
Kalinzu Forest Reserve
As part of your trip, you'll spend one full day tracking the chimpanzees in the Kalinzu Forest Reserve, which lies about 4,593 feet (1,400 m) above sea level in the southwestern part of Uganda near Queen Elizabeth National Park.
This forest is well renowned for chimpanzee tracking and harbors six different species of primates, including the blue monkey, black and white colobus monkeys, the vervet monkey, the baboon, and the Hoest guenon.
Furthermore, the Kalinzu Forest Reserve is also home to a wide variety of wildlife, including 378 species of birds, the ideal destination for bird lovers.
As part of a unique cultural experience, a visit to a tea plantation within the Kalinzu Forest Reserve is also scheduled. Learn everything there is to know about tea during this excursion!
Lake Bunyonyi
Lake Bunyonyi is near the town of Kabale and the Rwandan border. The lake sits at 6,437 feet (1,962 m) above sea level and contains 29 islands. The lake is surrounded by volcano forests harboring the mountain gorillas.
During your two-day visit to Lake Bunyonyi, one full day of gorilla trekking awaits you! To make sure you get the most out of your trekking experience, a certified mountain gorilla tracker will accompany you.
As a result, the chances of an encounter with the mountain gorilla are maximized.
Because of strict regulations from the Ugandan government, the permit only allows a group of 8 people to visit a family of gorillas per day. Since the group may contain up to 20 individuals, it will be split up into sub-groups for the trek.
The price of the Uganda & Gorillas Overland safari package includes the permit fees.
Jinja: The Ultimate Destination for Adventure Seekers
The Uganda & Gorillas Overland adventure includes a visit to the town of Jinja, the destination of choice for all the adrenaline junkies out there! Many activities are available and include:
Mountain Bike through the Mabira forest (more encounters with monkeys).
Quad biking along the Nile River banks.
Nile River Kayaking.
Nile River Rafting through grade 5 rapids.
Bungee jumping over the Nile.
Horseback riding.
Sunset cruises on the Nile.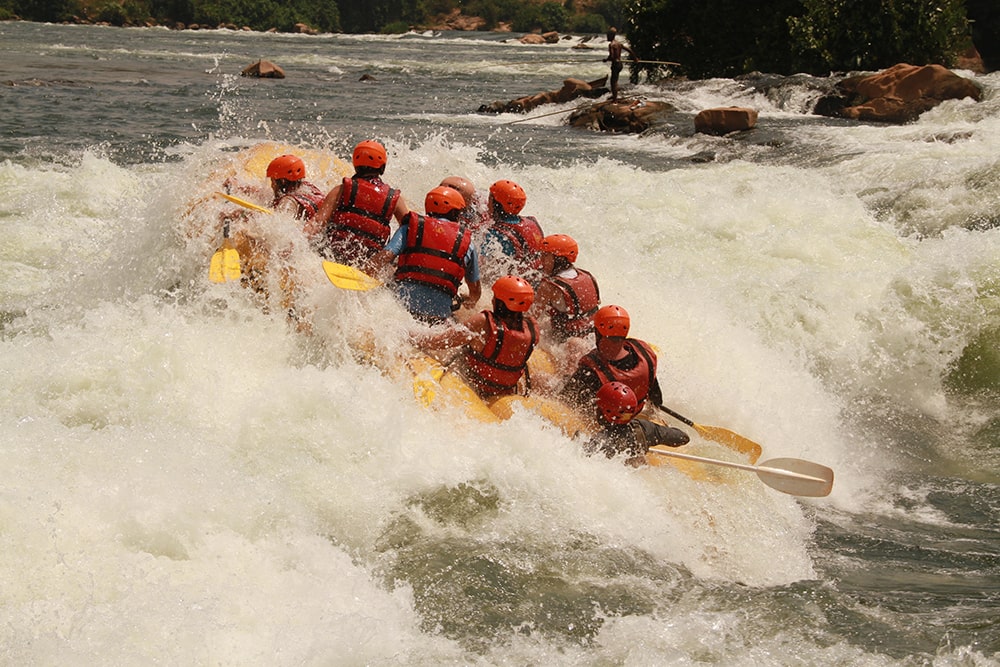 Optional Activities
Some optional activities are offered to fill up your free time! While you are at Lake Bunyonyi, you will have a full day to explore Lake Bunyonyi's surroundings.
Here are some activities to consider:
Canoeing.
Swimming.
Nature walks around Lake Bunyonyi.
Bird watching since Lake Bunyonyi is the host of more than 200 species of birds, so get your binoculars ready!
Boat tour of Lake Bunyonyi.
Fishing.
Camping & Overland Truck
The Uganda & Gorillas Overland adventure is for people that don't mind "roughing it" since the accommodation involved camping in the wild!
For this journey, you'll have to bring your sleeping bag and pillow. G Adventures provide the tents and all the other camping equipment.
On the downside, you will not be lodged in luxurious campsites.
The campsites are nearby the National Parks, and the comfort is usually basic. Don't expect to have all the amenities, like flush toilets, warm showers, shelters for eating, and so on; you will have some amenities but not all of them!
However, since you are traveling with an overland truck to get to different locations, it is not entirely rustic camping. The overland truck can seat 24 persons and includes a basic kitchen and a cook.
The vehicle also offers the possibility of charging your electronic devices, since it is equipped with various outlets, but there are no bathrooms or showers within the truck. The large sliding windows are ideal for gazing at the breathtaking landscapes along the way as well as for game viewing.
Visas
Depending on your nationality, you might need to get your entry visa prior to your departure from Africa. To be on the safe side, check with G Adventures or your local embassy in Uganda prior to your departure for more information.
Conclusion
The Uganda & Gorillas Overland safari constitutes an experience of a lifetime within the Pearl of Africa! Best suited for adventure seekers on a tight budget and looking to get the most out of their vacation with days filled with unforgettable adventures!
The Uganda & Gorillas Overland offers a unique opportunity to meet up close to the chimpanzees and gorillas, and also, observe a wide variety of wildlife in their natural habitat.
Furthermore, all the adrenaline junkies will not be left behind as they will enjoy fantastic outdoor activities!
Yolo travelers, adventure seekers out there, are you craving a break from your daily routine? Then, you should consider taking a well-deserved vacation to visit your closest relatives!