Ever since you booked your African safari vacation, you have been wondering what kind of outfit to wear for your encounter with the wildlife.
Thus, I examined in my African safari clothing review different styles of attire for both men and women that you should pack for your safari vacation.
Dress up with style and blend in with your surroundings!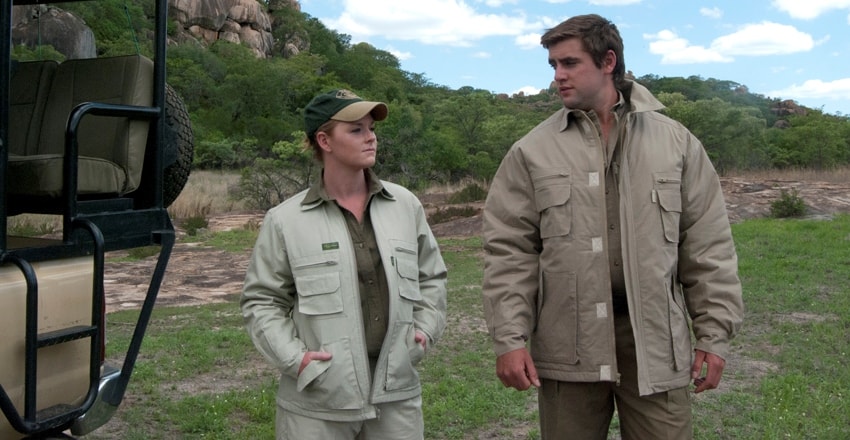 How to Dress Up for an African Safari?
As a general rule of thumb, avoid wearing bright colors at all costs on a safari. The main reason is that the vivid colors attract animals. You don't want to draw unnecessary attention to yourself. Therefore, you should opt for light colors, like olive, gray, khaki, and brown.
Keep in mind that if you wear short sleeve shirts along with shorts you need to have bug repellent since malaria is present in many regions of Africa.
Remember that exposed skin is an invitation for lunch for the mosquitoes! To avoid contracting malaria, cover your skin. If you insist on wearing short sleeves as well as shorts, spray an ample amount of bug repellent to prevent mosquito bites.
Furthermore, if you travel to Tanzania or Kenya, be on the lookout for another pesky insect, the Tsetse fly, a carrier of the sleeping sickness.
Thus, it is of the utmost importance to protect yourself by wearing long sleeve shirts along with pants. Also, avoid wearing dark colors such as blue and black since they are a magnet for the Tsetse flies.
One of the things that you need to take into account when selecting your safari clothing is the weather. Africa is well renowned for its broad spectrum of weather conditions. What I mean here, is that the temperature varies considerably during the day. Usually, the mornings and evenings are very chilly, while during the day, the temperature gets sweltering.
Furthermore, you have to factor in the time of the year. Are you traveling to Africa during the winter (wet season) or the summer (dry season)?
Another thing to think about when buying your safari clothing is comfort. You don't want to wear safari clothing made of polyester or any other non-breathable fabrics. This will block the elimination of perspiration from your skin.
I highly recommend that you wear cotton clothes, or clothing made of breathable fabrics, to get rid of the moisture.
Layered Clothing!
A little piece of advice, it would be wise to dress up in layers. Considering that the temperature varies tremendously during the day, this will allow you to either remove or add pieces of apparel and stay warm and cozy.
Now dressing up in layers does not imply that you have to bring your entire wardrobe! If you are taking charter flights to reach your safari destination, there is a luggage restriction.
The weight limit is 30 pounds (15 kg). To avoid any unpleasantness, bring only the essentials and versatile clothes!
Tag Safari Jacket for Men
The men's Safari Jacket is made of 100% cotton, keeping you warm on a chilly day. It has multiple pockets to stow all your essentials for your Safari adventures.
The safari jacket only weighs 5.5 Oz (155 g) and will not take up too much space in your duffel bag!
Fabrics: Tropicool Cotton
Colors: Khaki, Moss, Olive, and Stone
Sizes: Small thru 3XL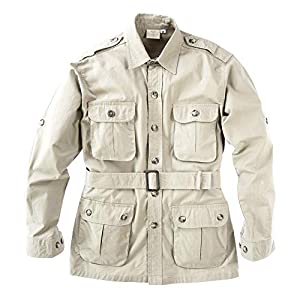 Field Jacket for Women
The Field Jacket will most certainly keep you warm. Plus, ladies, no need to carry a purse around with this jacket!
It has six pockets, big enough to stow away your important documents and everything you need for your adventure!
Fabrics: Polyester and Fleece
Colors: Olive
Sizes: X-Small thru XL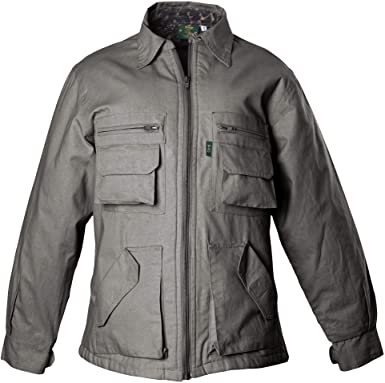 Zambezi Convertible Pants for Men
The Zambezi Convertible Pants are best suited for those who want to travel light since they are versatile.
Take off the legs and wear them as shorts during the day and put back the legs for dinner. Thus, no need to bring a pair of shorts and pants for your vacation.
The Zambezi pants are lightweight, weighing only 5.5 Oz (155 g). Also, the presence of an elastic waist gives you more comfort.
There are also four pockets for the storage of your safari gear such as binoculars, compass, camera, and so on.
Fabrics: Tropicool cotton
Colors: Khaki, Olive, Moss
Sizes: 28'' to 44'' waist (2-inch increments)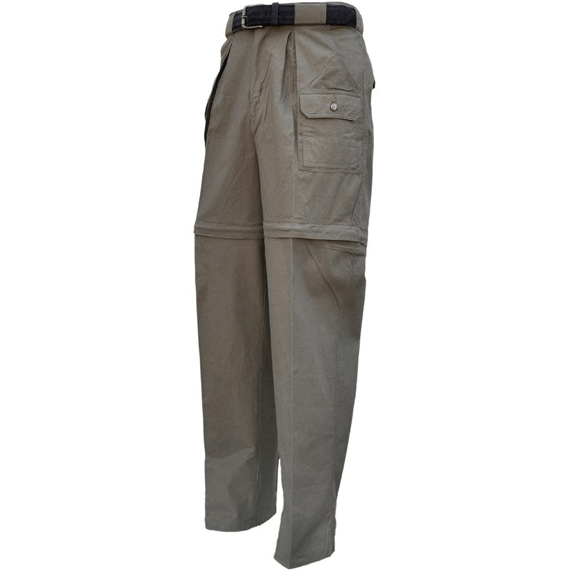 Chino Pants for Women
The Chino pants for women are appropriate for various activities such as walking, hiking, or going on game drives only to name a few.
Moreover, the Chino Pants with their front pleats provide a sleek and sophisticated look. They can be worn for casual as well as for formal events.
So, there is no need to change up for dinner with these versatile pants!
Fabrics: Tropicool cotton
Colors: Khaki, Olive, Forest, Moss
Sizes: 4 thru 14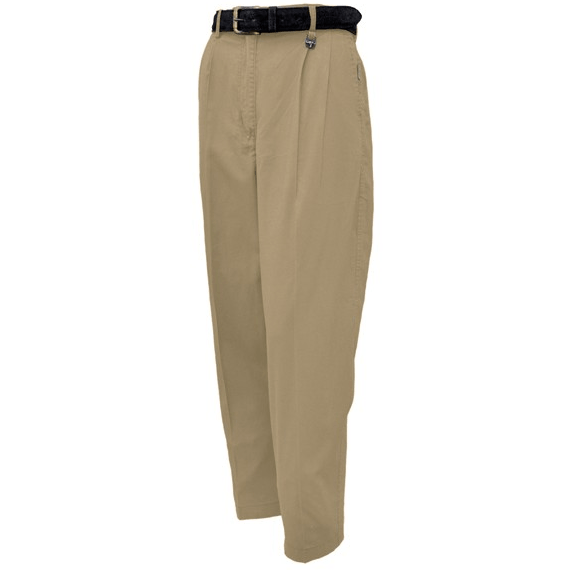 Adventure Shorts for Men
The Adventure shorts are the logical choice for hiking and walking safaris. Their length is above the knee.
They offer enough storage with their two cargo pockets to carry with you all your valuable gadgets such as binoculars, cameras, and a GPS to allow you to track down and observe wildlife.
Fabrics: Tropicool cotton
Inseam: 9 inches
Colors: Khaki, Olive
Sizes: 30'' thru 44'' waist (even sizes, 2-inch increment)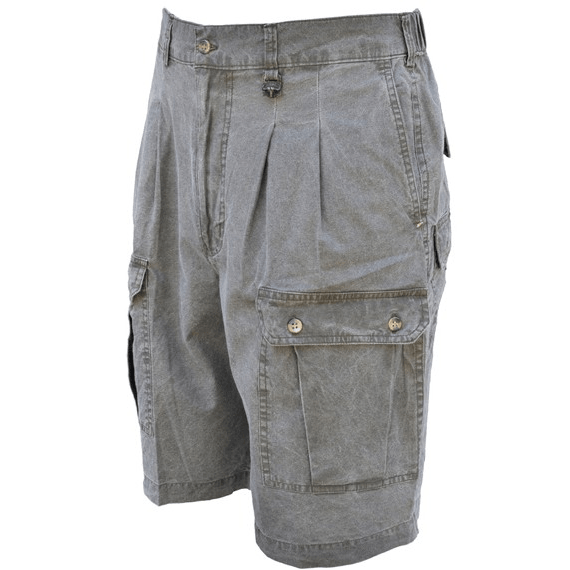 Chino Shorts for Women
Ladies, if you want to wear shorts during your safari vacation, you should opt for the Chino shorts. Why? 
Because the local population of many African countries is often mainly composed of Muslims, ergo, it is not a good idea to wear shorts that are mid-thigh or even shorter. 
It is considered a great offense by the Muslim community. It would be more advisable to buy shorts that are at knee-length like the Chino shorts!
Fabrics: Tropicool cotton
Inseam: 7 ½ inch
Colors: Khaki, Stone, Olive, Forest
Sizes: 2 thru 14 (even sizes, 2-inch increment)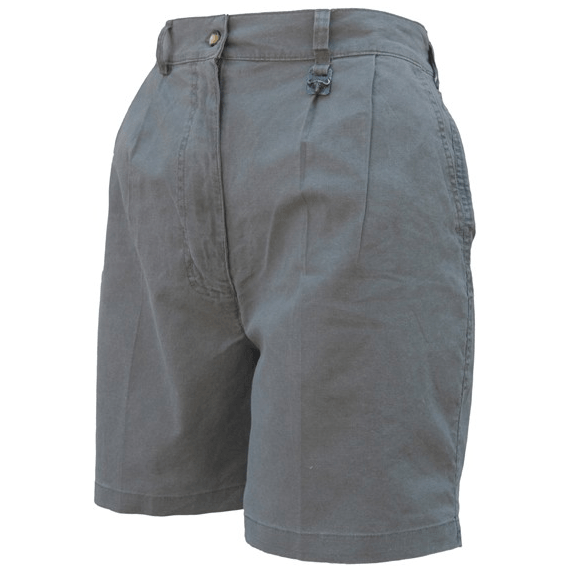 Vent Back Adventure Shirt for Men
If you are thinking of buying the vent back adventure short sleeve shirt for your safari vacation, bring as well some bug repellent!
The shirt is made of cotton, and the vented back will keep you cool.
Fabrics: Tropicool cotton
Colors: Khaki, Olive, Stone, Moss
Sizes: Small thru 3XL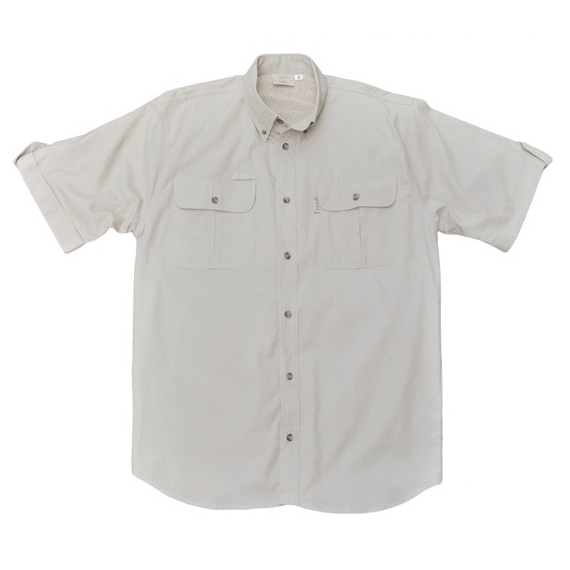 Trail Shirt for Women
The trail shirt with long sleeves for women has epaulets, perfect for keeping your binoculars handy!
Furthermore, if you are planning to visit countries where there is a risk of contracting malaria or the presence of the Tsetse fly, you should wear a long sleeve shirt such as the trail shirt.
This is by far the best option to protect yourself.
Fabrics: Tropicool cotton
Colors: Khaki, Olive, Stone, Forest, Moss
Sizes: X-Small thru 4XL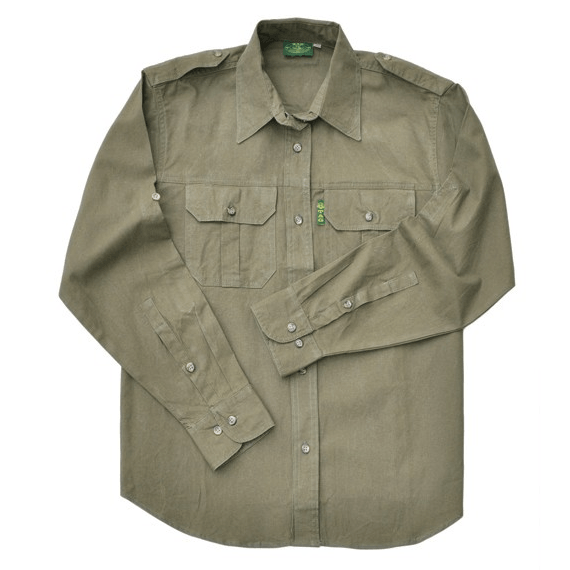 Final Thoughts
In this review, I took a closer look at the basic clothes that you will need for your African safari vacation.
Because of the luggage restriction, you need to pack versatile clothes! Keep it simple by bringing only the essentials. Furthermore, many safari lodges and hotels provide a laundry service, so there is no need to bring your whole wardrobe!
You should opt for clothing made of breathable fabrics such as cotton, and dress up in layers.
To ensure that you return home safely, you should buy safari attire of light colors. Dark colors are a magnet for the megafauna. Try to blend in with the décor!
Furthermore, to reduce the risks of mosquito bites and, therefore, contracting diseases like malaria and sleeping sickness, pants, and shirts with long sleeves are preferable.
If you have any inquiries about African safari clothing, leave a comment below, and I will get back to you ASAP!