| | |
| --- | --- |
| Product | UDI 818A HD Drone Review |
| Manufacturer | USA Toyz |
| Dimensions | 13 X 13 X 3 in |
| Weight | 4.6 ounces (130 g) |
| Guarantee | 30-Day against Manufacturer Defects |
| Where to Buy | Amazon |
| Customer Rating | 4.1 out of 5 |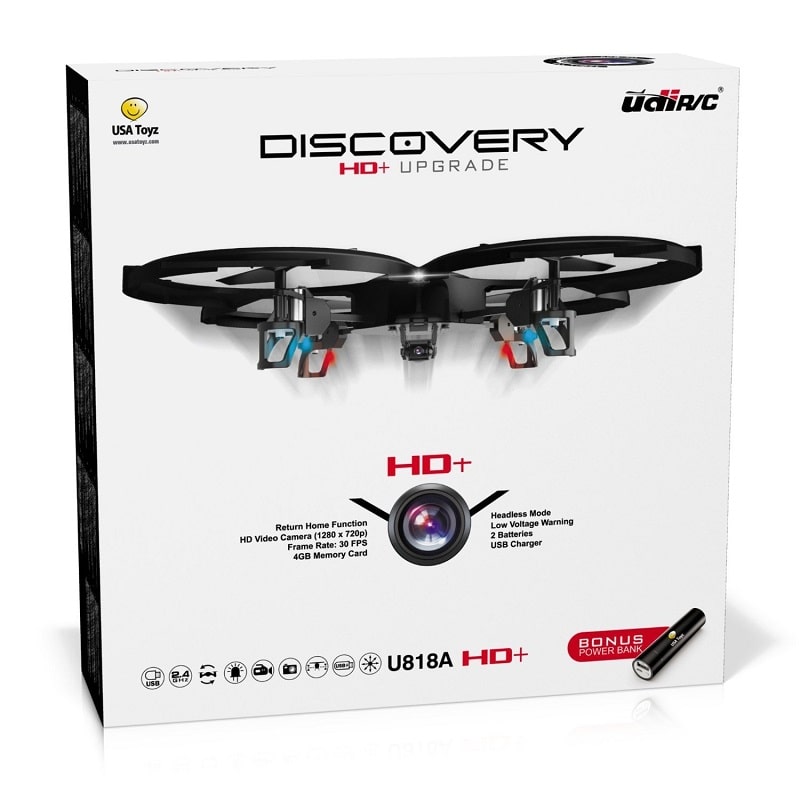 Nowadays, drones are everywhere! Are you thinking about buying a drone (or quadcopter) for yourself or as a gift and don't know where to start?
Well, you have come to the right place!
In this review, I looked closely at the UDI 818A HD drone with an HD camera from USA Toyz. The UDI 818A is an entry-level quadcopter perfect as the first drone for all beginners!
So, without further ado, let's find out why:
Specs:
6-Axis Gyro Stability.
2.4 GHz Transmitter with LCD, 4 Channel.
2 MP HD Camera (1280 X 720p @ 30 FPS).
Rugged Plastic Frame.
Headless Mode.
Return Home Function.
LED Lights.
Upgraded 4GB Micro SD Card + USB Card Reader.
USB Power Bank (Bonus).
2 LiPo Batteries.
4 Extra Propeller Blades.
Low Battery Alarm.
Charging Time: 90-120 min.
Flight Time: 7-9 min.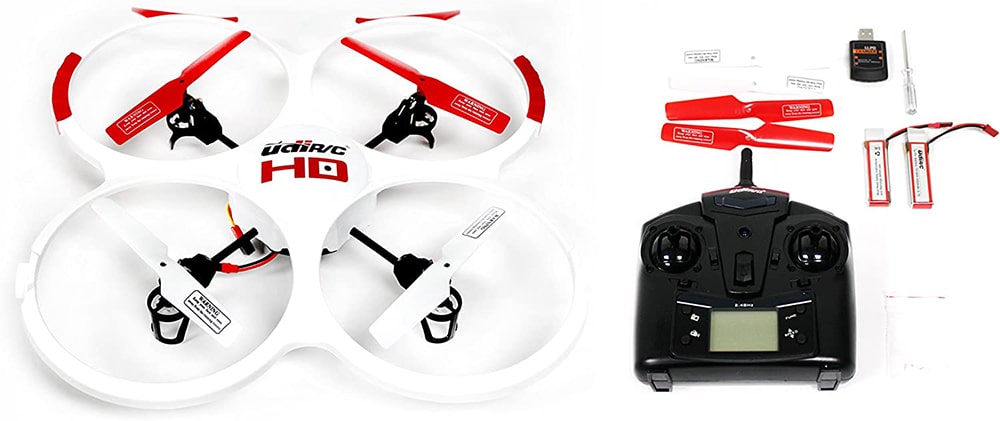 First off, the 6-axis gyro stability feature makes the quadcopter more stable to fly. The UDI 818A HD drone is very easy to maneuver, reducing your learning curve significantly!
Whether you are a novice or a more experienced drone pilot, sooner or later, you will crash your drone sooner or later! Accidents are either part of the learning process or because you are attempting tricky stunts.
However, no worries, the UDI 818A quadcopter is made of a rugged protective plastic frame that can withstand crashes. USA Toyz has included with this drone as a bonus four extra propellers just in case of mishaps. You probably won't need them, as the UDI 818A HD drone is so sturdy that it can take a beating.
The headless mode function helps reduce your learning curve considerably! How? As shown in the picture below, the drone can fly in any direction no matter which way the front is facing! So, if you move the throttle to the right, the quadcopter will go right, and so forth!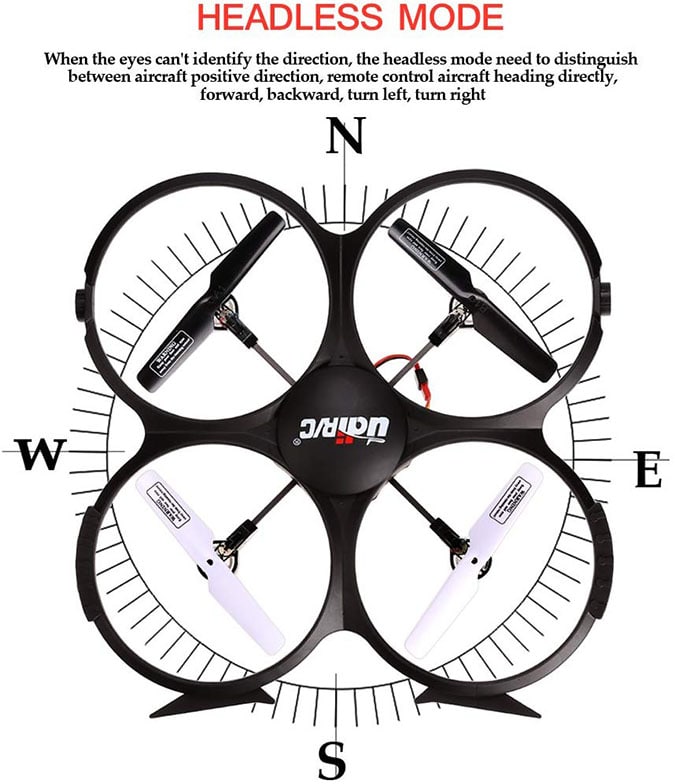 Furthermore, the UDI 818A drone has another cool gadget, the LED lights, allowing you to fly your UDI 818A HD drone at night!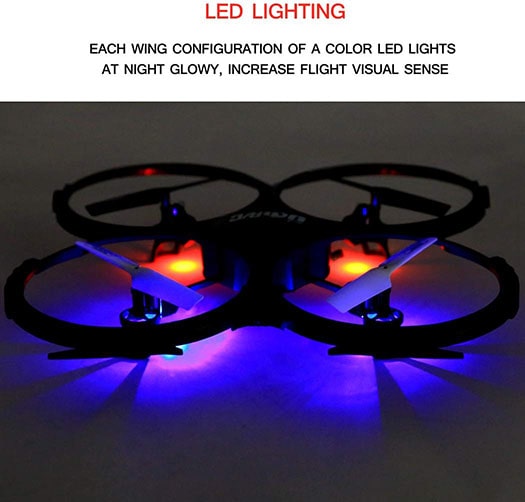 The return home function is among one of the best features offered on this quadcopter. Simply by the touch of one button, your drone will always find its way back to you! So, no more lost drones!
Moreover, because of the increased stability provided by the 6-axis flight control system, the HD camera can capture smooth and breathtaking videos!
Now, just don't take my words for it. Watch the video below and see for yourself:
As you know, time flies when you are having fun! As a result, you might overestimate your flight time. However, the likelihood of having to retrieve your UDI 818A drone in a tree or a pond is a thing of the past!
The UDI 818A HD drone has a low battery alarm on the control. Therefore, a beeping sound lets you know when it's time to charge the battery, which gives you ample time to bring back your quadcopter safely.
There are 2 flight modes available on the UDI 818A:
Beginner Mode: Designed for novice pilots. This mode offers increased gyro stability, enabling you to learn how to fly.
Advanced Mode: For the more experienced pilots. This setting allows you to attempt tricky stunts such as 360° flips or rolls with the simple touch of a button.
PROS
Lightweight.
Quick learning curve.
No need to register with the FAA.
Easy to maneuver.
Sturdy protective frame.
Nighttime flight.
CONS
Stationary HD camera.
Tough to fly in windy conditions.
A Long charging time (90-120 min).
Since the UDI 818A quadcopter weighs less than 5 ounces (130 g), I strongly urge you NOT to fly the drone in gusty wind conditions! If you do, you will have a very hard time controlling the quadcopter since it will get pushed around by the wind due to its lightness.
The HD camera enables you to capture great HD videos as well as photos. However, because the camera is in a fixed or stationary position, you can only capture what is in front of the camera.
Of course, if you had an adjustable camera instead, you would be able to get panoramic views by smoothly moving the camera around and not the whole drone!
Since the UDI 818A is an entry-level drone, you are better off, in my opinion, with a stationary camera.
Remember, you need to learn how to fly the quadcopter first and not be distracted by fancy gadgets such as an adjustable camera.
One of the drawbacks of the UDI 818A quadcopter is its short flight time, which averages 7-9 min. However, this falls within the flight time range of most of the entry-level drones on the market.
To increase your flight time, USA Toyz has included as a bonus an extra battery and a USB Power Bank which enables you to charge your batteries on the go! Therefore, your flight time is more than double!
It's Conclusive: The UDI 818A Is the Drone for Beginners.
I must admit, I am not a very skilled drone pilot, and if you are like me or have never flown a drone before, you need a quadcopter that is easy to operate and, above all, crash-proof!
Because, let's face it, as a novice pilot, you will crash your drone. It's all part of the learning process, but no worries, the UDI 818A quadcopter, with its sturdy frame, can take the abuse!
The UDI 818A has a Headless Mode as well as a Return Home Function, making this drone very easy to maneuver, resulting in a short learning curve!
Don't spend a fortune on your first drone since its primary goal is to be used to learn how to fly. Avoid buying a very expensive drone with loads of gadgets.
You should opt for the best entry-level quadcopter instead for beginners on the market, the UDI 818A HD drone with an HD camera, which offers a great value for the price.
If you have inquiries about the UDI 818A HD drone or want to leave your own review, please drop me a line below.