Most people think that safaris are only about seeing wild animals. Well, we're going to change that. There are other kinds of safaris that allow you to experience different ways of life and explore different countries. In this review, I will look at a safari package from G Adventures called: Local living in Kenya, which includes a full immersion into an authentic Maasai village in Kenya for five days.
Highlights of the G Adventures Tour Review
Your adventure starts and ends in Nairobi. You will spend five whole days in a Maasai village named: Maji Moto Camp near the Loita Hills.
This region encompasses many landscapes, including vast open plains, hillsides, and small forests. The Loita Hills are situated south of Nairobi and northeast of the Maasai Mara Reserve.
As part of your cultural safari experience, you will learn about the village life of the Maasai people, acquire some survival skills along the way and participate in the community's cultural activities.
The group size is, on average, five persons. In addition, the safari package includes a Chief Experience Officer (CEO) or, if you prefer, a tour guide and local Maasai guides.
The Maasai Village experience: Local Living in Kenya is for everyone looking to immerse themselves in another way of living. There will be some walking involved throughout your stay. Therefore, you need to be in good physical health. Otherwise, you might find it to be taxing at times!
Village Life
As soon as you arrive at the Maji Moto Camp, you'll get to business immediately!
First, you'll spend some time with the women of the village and learn about their daily routine, which includes but is not limited to cooking, and water fetching, and as a bonus, you'll try your hand at making beaded jewelry.
G Adventures also offer a night drive to observe the wildlife as an optional activity. However, don't expect to see the big five animals. They are not present in the Loita Hills region.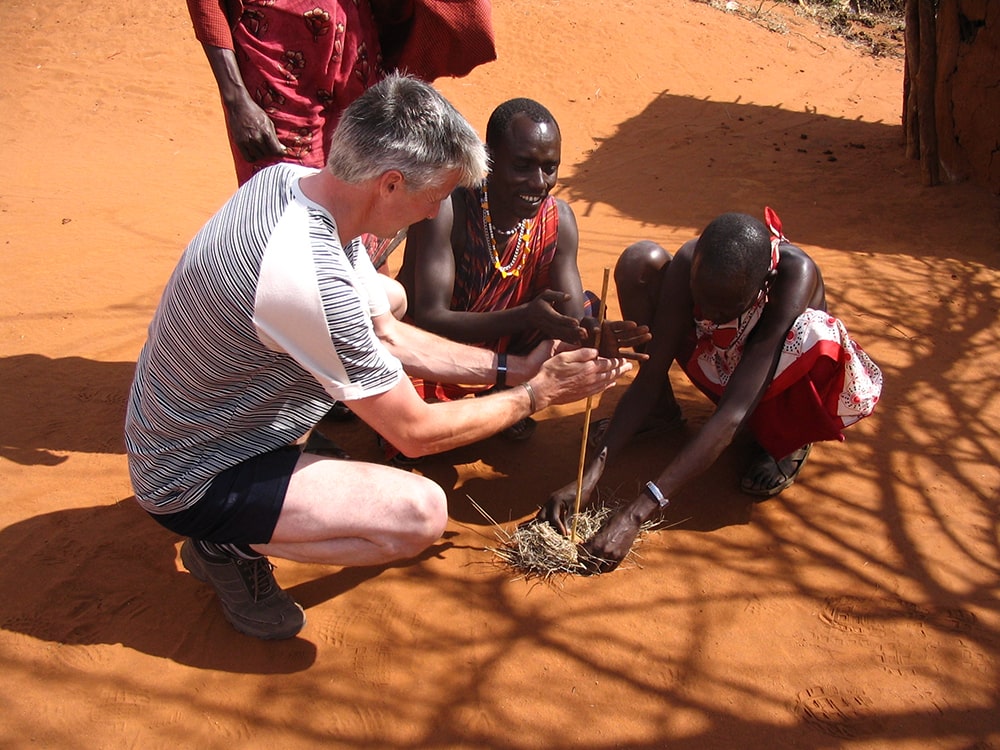 The wildlife known to be wandering around in the area includes; zebras, gazelles, monkeys, giraffes, and ostriches!
Warrior Training
On your second day in the village, you will go on an excursion with the Maasai warriors and learn survival skills, such as making a fire with a stick, tracking the wildlife, throwing a spear, and much more.
As part of the warrior training experience, you'll sleep in the bush under the stars.
Festivities
During the last evening spent in the Maji Moto Camp, you will participate in a blessing ceremony, where there is much dancing, singing, and telling stories, which constitutes an opportunity to learn more about their beliefs and cultures.
Moreover, while you are at it, don't forget to try out the local brew-honey beer!
Accommodations
While staying in the Maji Moto Camp, you can sleep in tents, where G Adventures provides mats and bedding.
Alternatively, if you want, you can upgrade your accommodations to a mud hut, also known to the Maasai people as Manyattas.
However, if you wish to sleep in the Manyattas, you must request the upgrade when booking your vacation since the number of places available is limited.
About the amenities, they are, as you might have guessed, very rustic. There are toilets and sinks on the site, and as far as the showers are concerned, you will be able to shower in a private outdoor facility, but you better get your bucket ready!
A Cautionary Tale…
Overall, all the customer reviews praise the Local Living in Kenya – Maasai Village safari experience.
However, on the negative side, it has been reported that the Maasai are renowned for exerting undue pressure on tourists, so they buy souvenirs. In other words, some Maasai people are using aggressive sales tactics! Of course, G Adventures do not endorse these practices.
Therefore, if you are not comfortable or don't want to be badgered during your vacation, you should ask your CEO for some advice on how best to proceed to avoid any unpleasantness during your holiday. Alternatively, this trip might simply not be for you!
Conclusion
Local living in Kenya: Maasai village from G Adventures offer an opportunity of a lifetime to discover another way of living through a cultural immersion amongst the Maasai People, the most famous tribe in East Africa!
This cultural safari enables you to truly experience the day-to-day life of the Maasai people by letting you try your hand at daily chores performed by the women of the village and learn survival skills taught by the warriors.
If you don't want to go on a sightseeing vacation but are looking for a different kind of adventure, you should consider this safari package. This local living experience will most certainly give you a new take on life!
If you're keen to experience another culture through cultural immersion, I highly recommend that you book your local living adventures in Kenya by clicking here!
If you have any questions about this cultural immersion or a cultural experience you would like to share, please leave a comment below. I will get back to you promptly!