Tanzania is well-known for being the destination of choice to see the big five animals (lions, leopards, elephants, buffalos, and rhinoceros) and especially for a first safari experience.
However, do you have any idea of what to expect at mealtime? Can you name the traditional foods of Tanzania? If not, keep reading!
You ought to know a few things about Tanzanian cuisine to avoid any surprises at mealtime.
Therefore, I have outlined some interesting facts about the Tanzanian traditional dishes and some that you should try on your safari adventure in Tanzania.
First off, to better understand what makes Tanzanian cuisine so unique, we need to go back in time!
Origins of the Tanzanian Cuisine
Tanzania is in East Africa. Geographically speaking, Tanzania encompasses a mainland and the islands of Zanzibar, Mafia, and Pemba.
Nowadays, there are about 120 ethnic groups in Tanzania, including people of European and Asian descent. The rich diversity found in Tanzanian cuisine comes from these cultural influences.
The main contributors to the Tanzanian cuisine:
The Muslims set up the trade routes going in and out of Tanzania around 800 A.D. As a result, spices from India and citrus fruits were able to reach Tanzania. The Muslims' influence is mostly present in the coastal region and on Zanzibar Island; the latter is well-renowned for its spice farms.
The Portuguese introduced cassava, a root containing a large amount of starch, and groundnuts, both staple ingredients of Tanzanian cuisine.
The British are responsible for the presence of tea plantations in Tanzania.
The Germans established coffee plantations.
The Basis of the Tanzanian Cuisine
The Tanzanian cuisine is delicious, nutritious, and quite filling! The reason for this is the usage of starches such as millet, beans, cornmeal, sorghum, and pilaf within almost every dish!
Beyond the starches, Tanzanian cuisine is based on the three following ingredients:
Coconut and its derivatives are used for cooking most dishes.
Plantains.
Beans.
Every Tanzanian meal contains one or a combination of these ingredients. Finally, the groundnuts are used as spices to add some flavors to the dishes.
Some traditional dishes that you should try while on your Tanzanian safari adventure:
Coconut Bean Soup
Wali wa Nazi (rice in coconut milk)
Supu Ya Ndizi (Plantain Soup)
Ndizi Kaanga (fried banana)
Mchuzi wa Samaki (curried fish in coconut milk)
Mishkaki (beef or chicken kebabs)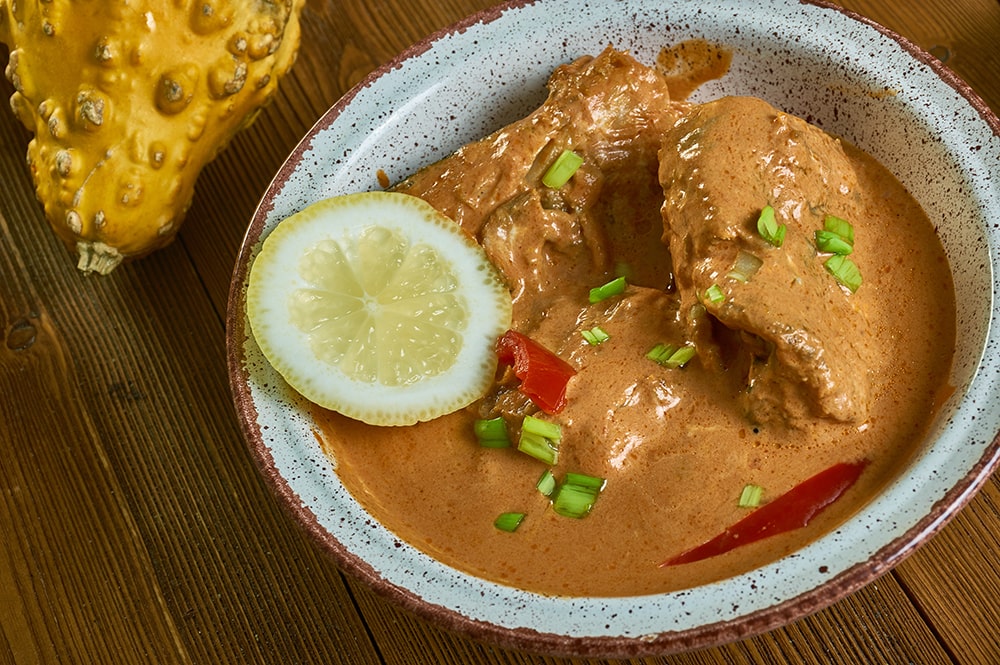 Quick Facts About the Tanzanian Cuisine
Ugali
The National dish of Tanzania is Ugali.
Ugali is a dough made of cornmeal and served along with a sauce made of either meat, fish, beans, or veggies.
The traditional way of eating Ugali is with your right hand by forming a ball with a dent and dipping it into the sauce.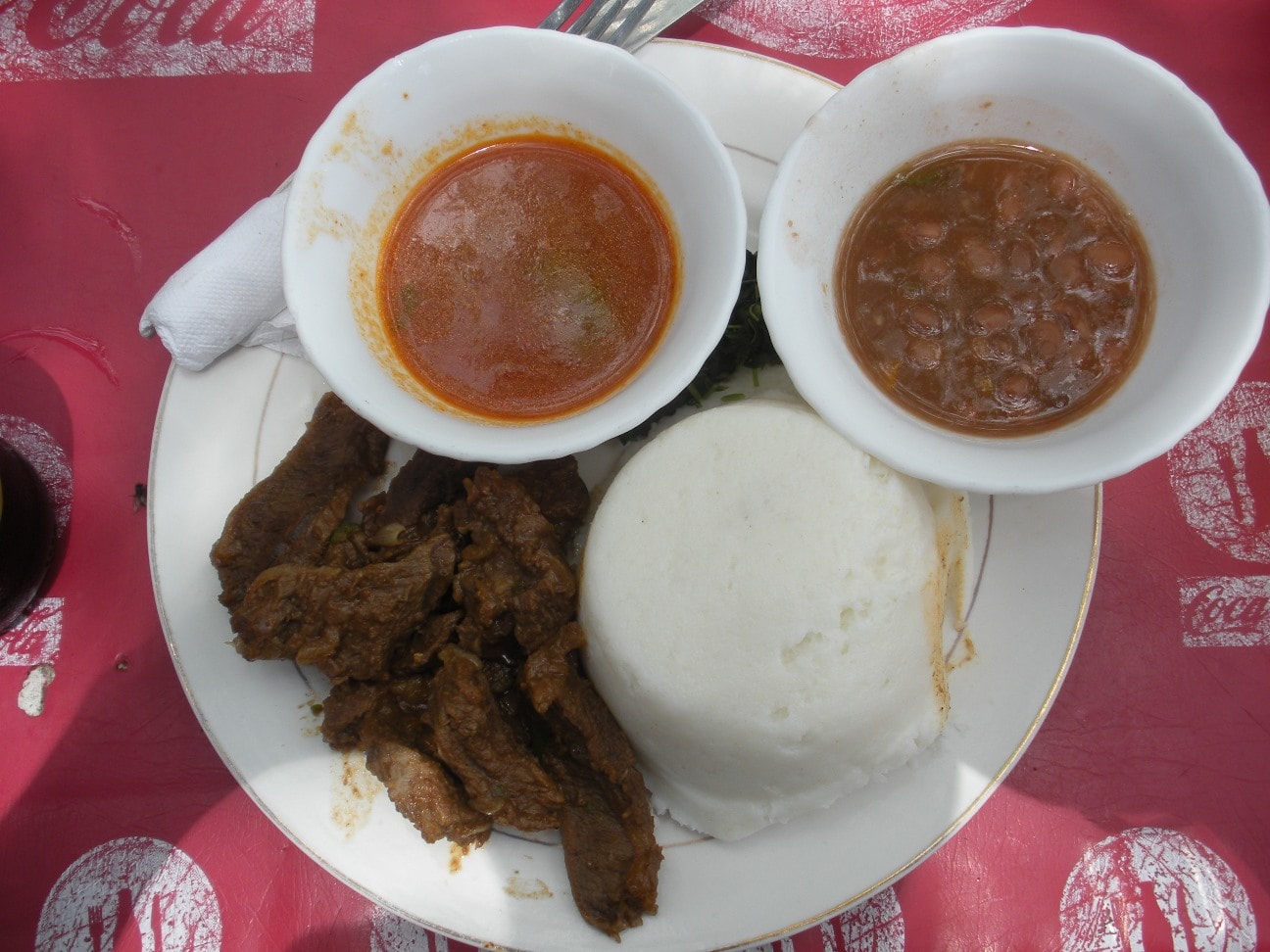 Pilau
Pilau (or Pilaf) is a rice dish with the following spices: curry, cinnamon, cloves, hot peppers, and cumin.
The Pilau is the meal of choice for special occasions such as weddings, birthdays, Holidays, and ritual ceremonies.
Very popular dish within the coastal region and on Zanzibar Island.
Nyama Choma
The Nyama Choma is a typical Tanzanian grilled meat (barbecue) meal.
Chicken, goat, fish, or sheep are the preferred meat for the Nyama Choma.
Contrary to South Africans, the Tanzanians do not eat much meat, mainly because it is expensive.
Most Tanzanian families only eat meat on special occasions (weddings, rites of passage, Holidays).
Typical Tanzanian Meals
First, Tanzanians eat their meals on a floor mat or a low table.
One of the Tanzanian customs entails hand washing at the table prior to the meal, using a large bowl of water and a towel. You must at all times only use your right hand even if you are left-handed! This is because the right hand is perceived as 'the pure hand' whereas the left hand is considered unclean.
Breakfast
The breakfast usually consists of Chapatti, flatbread or of Mandazi, a fried dough (donut), and served with tea or, as the locals would say, Chai.
Lunch
Lunch usually takes place around 1:00 PM and is the biggest meal of the day. The meal includes either Ugali or rice along with beans, veggies such as Mchicha, which are a variety of spinaches, and chapatti bread.
Dinner
When it comes to supper, it is very similar to lunch with an added meat portion from time to time. Usually, dinner is less lavish than lunch. Coffee is the beverage of choice.
Beverages
The most popular drink in Tanzania is by far the Chai (tea). It is quite simple to make. If you want to learn how to make the Chai, watch the video below:
The plantains are not only an important component of Tanzanian cuisine but also of alcoholic beverages! The Mbege (banana beer) is among the favorite drinks of the Tanzanians. This local brew consists of fermented bananas and originates from the Kilimanjaro region.
Snacks
The Samosa is a popular snack made of minced beef, onions, garlic, and spices, all enclosed in a pastry shell and deep-fried. There is also a veggie version of the samosa.
Conclusion
Tanzania is not only the destination of choice for safaris but also offers a unique culinary experience. Tanzanian cuisine is a reflection of its cultural diversity. The food is delicious and nutritious.
Now that the Tanzanian cuisine holds no more secrets for you, if you want to learn more about a safari adventure of a lifetime in Tanzania, read my full review here.
If you have any inquiries about the traditional foods of Tanzania or would like to share your recipes for African cuisine, please leave a comment below. I am looking forward to hearing from you.